City of Boulder, Colorado. Open Space and Mountain Parks, Genius of Place Biomimicry Project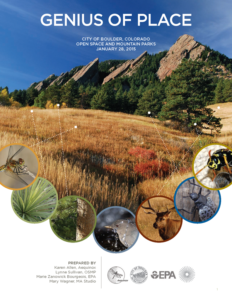 Aequinox co-led OSMP's Genius of Place Project, guiding the project team on using the Biomimicry Design Approach to redesign a road/trail system using life-friendly materials. We trained OSMP staff in biomimicry, taught staff how to conduct biological research for a Biomimicry project, served as the primary biology researcher and translator, worked with a local designer to illustrate nature's strategies and design principles, facilitated the Project Design Charrette, and co-authored the Project Report.
To view the project report, click on the report link:  Genius of Place Report, Boulder.
Biomimicry Workshop Facilitation
Karen Allen has taught and facilitated many Biomimicry workshops over the past decade, to those new to the practice, to clients who want to train up staff in biomimicry or generate design concepts, to university students. Workshops range from ½ day to a week in length. Attendees include engineers, architect, industrial designers, sustainability professionals and business leaders. We've taught Biomimicry & Design workshops all over the world, including Costa Rica, Belize, India, Canada, South Africa, Botswana, Netherlands, Australia, and throughout the United States. Our workshop clients are as diverse as the EPA; Clean Water Services, OR; Cuyahoga County, OH; City of Boulder, CO; Oregon State University, Willamette University, and numerous private clients including HOK and Biohabitats.
Genius of Place Stormwater Project, Portland, OR
Karen served as the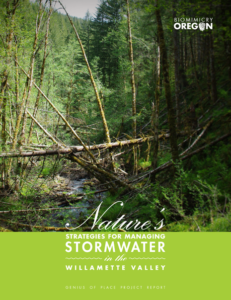 lead biologist on a multi-disciplinary team that researched nature's strategies for absorbing, storing and intercepting water to inspire sustainable design concepts for stormwater management in Portland, OR.  Karen developed and facilitated a workshop for 45 stormwater professionals (engineers, architects, Bureau of Environmental Sustainability staff, etc.). Outcomes included 35 sustainable design concepts inspired by nature for managing stormwater that were later ranked for further development.
View the  Genius of Place Stormwater Project Process Report and read the Genius of Place Stormwater Project Summary Report.
Green Bulkheads Phase III Design, Cuyahoga River, Cleveland, OH
After two failed previous attempts to provide for larval and juvenile fish habitat along the Cuyahoga River shipping channel between the habitat-rich headwaters and Lake Erie, Cuyagoga County Planning Commission embarked on the Green Bulkhead Phase III Design to improve structural impairments to young fish as they migrate to the lake. The project required the team to use the Biomimicry Design Approach to design the next generation Green Bulkhead. Aequinox taught a 1-day Biomimicry training to the project team and stakeholders, then supported Biohabitats biologists and engineers to integrate Biomimicry throughout the project. While 6 key functions were identified as limiting for larval fish migration, providing cover was the primary function investigated. Karen translated biological information into design principles and facilitated a design charrette in which the project team & stakeholders generated design concepts. Biohabitats has worked directly with Cuyahoga County to refine design concepts, and develop & install prototypes.
San Francisco Museum at the Mint, HOK
Aequinox conducted biological research into natural models relevant to daylighting, natural ventilation, and acoustics for HOK architects and engineers on the SF Museum at the Mint project. Karen led a design charrette at the HOK Studio that included a biomimicry overview, relevant biological stories and design principles, and facilitation of design concept development for window design.